Custom Hot Wheels 63 Chevy II Flat Black Rubber Tires Real Rider Style
Custom Hot Wheels 63 Chevy II Flat Black Rubber Tires
Each custom is taken apart, cleaned, stripped and repainted with custom AUTOMOTIVE paint!
No drill heat removal on plastic bottom cars leaving the original rivets intact
We carefully disassemble the car and make any repairs necessary
Strip all the original paint both inside and out. At this point they are bare metal and ready to be primed!
One last cleaning before spray time.
HIGH QUALITY AUTOMOTIVE SATIN PAINT IS SPRAYED
The paint is cured in an oven at 170 degrees for 2 hours
Now we pre-fit the body, windshield, interior, wheels and base to make sure everything is right.
We glue the body back together! We use a combination of model glue, crazy glue and two part epoxy. Depending on variations.
After full assembly and proper drying time they're given a soap and water bath and the final HAND POLISH to be ready for their new life
VISIT THE WEBSITE FOR EVEN MORE FUN!
http://MuncleMikes.com
PLEASE READ!
For each custom car sold, one new car will be donated to the Pediatric Oncology Department at Medical City Children's Hospital in Dallas, Texas to gift to kids receiving treatment. We also accept donations of new or used cars – we may customize a few (donation then matched 2:1) and donate the rest directly to the hospital for the play room.
Custom Hot Wheels 63 Chevy II Flat Black Rubber Tires Real Rider Style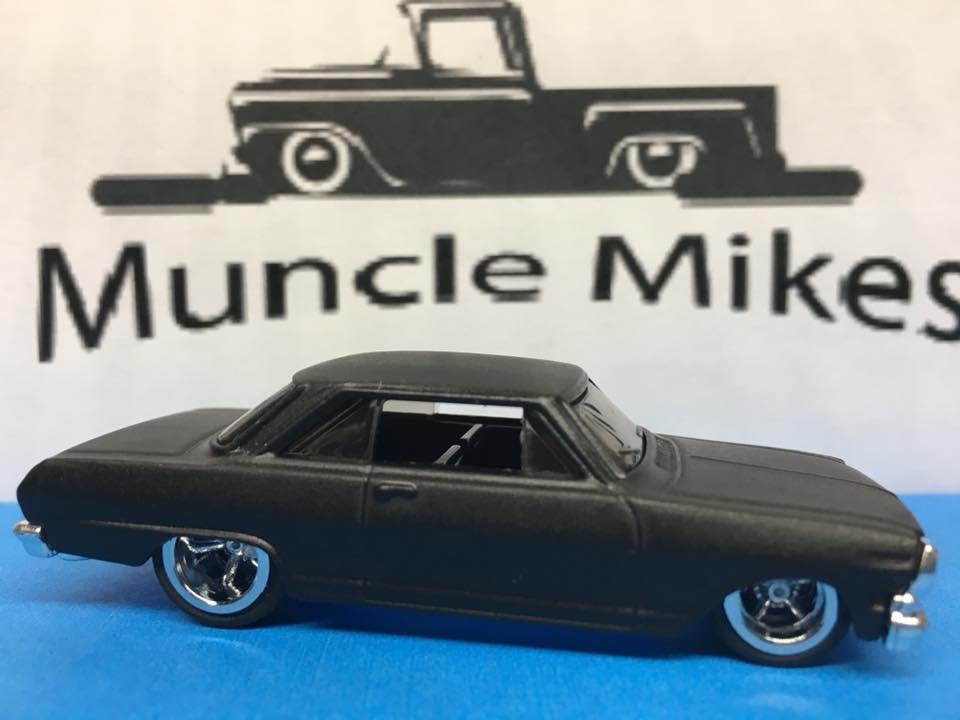 Specification:
Custom Hot Wheels 63 Chevy II Flat Black Rubber Tires Real Rider Style
| | |
| --- | --- |
| Weight | .05 lbs |
| Dimensions | 6 × 5 × 4 in |
Reviews
Only logged in customers who have purchased this product may leave a review.
Sorry no more offers available
Custom Hot Wheels 63 Chevy II Flat Black Rubber Tires Real Rider Style