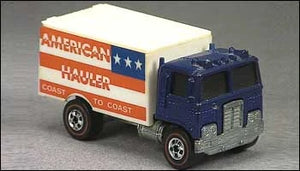 Hot Wheels 1976 - American Hauler
The American Hauler, along with its brother American Tipper, uses a lengthened version of the base and cab originally used on the Road King Truck. The casting would be reused without any special attachments for Movin' On, and then modified and lengthened further with a third axle and new freight box for the original 1980 version of Hiway Hauler.
Read more: American Hauler | Hot Wheels Wiki | Fandom
Seems like this ones all over the place.. Check it out!