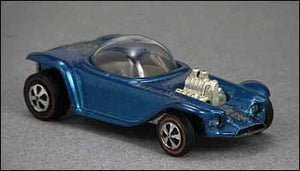 Hot Wheels Redline 1968 - Beatnik Bandit
The Beatnik Bandit debuted in 1968. It's sometimes known as the 'Sweet Sixteen'. It is based on the custom car built by Ed Roth in 1960. 
Beatnik Bandit was built on a 1950 Oldsmobile chassis. It still exists today and is on permanent display at the National Automobile Museum in Reno
The original Beatnik Bandit was manufactured from 1968 to 1971. There are several differences between USA and 'HK' manufactured cars. USA cars have a clear glass dome and the 'control stick' interior while HK produced vehicles have blue tinted glass and a black steering wheel. USA cars have engines with dual injectors while HK engines have a blower on top. Hong Kong cars have four square openings in the base which show the Bent Axle Suspension, these holes are absent from USA vehicles. Also Hong Kong cars have a slightly larger grille and headlights.
Read more: Beatnik Bandit | Hot Wheels Wiki | Fandom