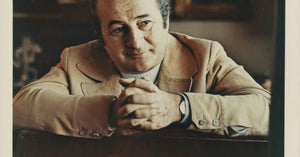 Elliot Handler was born in 1916 in New York City. He was the son of Jewish immigrants and moved to Los Angeles with his family at the age of 8. He attended Los Angeles City College and graduated in 1939.
Handler started a small business in 1942 with his wife, Ruth, manufacturing picture frames. He soon realized he had a knack for repairing and designing plastic items, and began producing dollhouse furniture.
In 1945, Handler, his wife, and a friend, Harold "Matt" Matson, formed a partnership, calling it Mattel Creations. They opened a small office in the back of their house and began selling toys. The company soon gained recognition for its innovative products, such as the Uke-A-Doodle musical instrument, and Handler and Matson were able to purchase a larger facility for their business.
In 1959, Mattel Creations was incorporated, and Handler was appointed President and CEO of the company. He was known for his creative ideas, such as the use of television advertising to promote Mattel's products, which helped the company become one of the largest toy companies in the world.
Handler was also instrumental in developing several of Mattel's most iconic products, including the Hot Wheels line of die-cast cars and the Barbie doll. The Barbie doll, which was named after Handler's daughter, was introduced in 1959 and quickly became an international sensation.
Handler remained with Mattel until his retirement in 1975. He passed away in 2011 at the age of 95. He left behind a legacy of innovation and creativity that will be remembered for generations to come.